Minion's Monday Wisdom
Posted by Dee Dunworth on 7 December 2015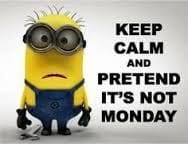 Well I hope everyone has had a great weekend and managed to enjoy themselves and have some fun. Life can get a little busy at this time of year so we need to make sure there is a little or a lot of fun if you like mixed in with the business.
I am following the Minion's advice this morning keeping calm and pretending it's not Monday and there isn't a huge amount of things to be done today.
Such wise critters these Minions. Have a great Monday everyone!



Author:
Dee Dunworth
About: Dee started her business in 2013 when luck met with opportunity, and allowed her the time to change careers from Business Finance Administration to become a Chandler (Candle Maker) where she was able to pursue her passion and create beautifully fragranced Custom handmade and Readymade Candles.
Connect via:
Twitter
LinkedIn