In Store Now!
Posted by Dee Dunworth on 6 February 2016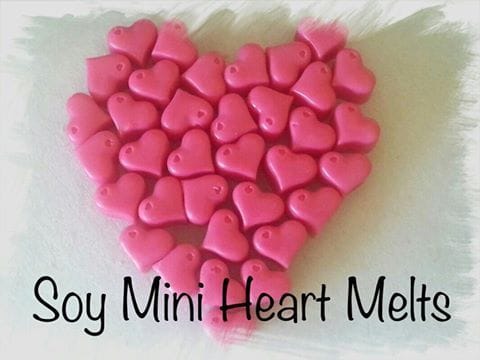 Attention Melt Lovers | Soy Melts - In Store Now!
I have been busy this week down in the Candle Cave whipping up these gorgeous Mini Heart Melts which are now available at my online store. I have shared with you the descriptions of each fragrance. At $1 each these are awesome value and this is a fantastic opportunity to grab a variety and sample some new fragrances.
Since I introduced these premium Mini Heart Melts my customers have fallen in love with them saying the fragrance level is great and they last for ages and the best thing is that they are suitable for use in all both styles electric and candle burners. So Melt Lovers head on over and place your order at my Online Store.
Sweet Lemongrass an invigorating aroma of lemongrass sweetened with a dash of citrus lemon and a hint of lime to create a vibrantly refreshing fragrance.
Tahitian Vanilla a rch and sweet, a light vanilla with notes of coconut and malt - fragrant vanilla at its best.
Caramel Vanilla enriched with sweet and salty buttery caramel this sweet scent is balanced perfectly with rich creamy vanilla, coconut and Tonka bean.
Coconut a deliciously fragrant toasted creamy Coconut, with a buttery Rum note.
Red Skins a harmonious fusion of tart raspberry sweetened by the summer sun which takes you back to childhood sweets.
Amalfi Coast imagine a drive along the beautiful Amalfi Coast this encapsulates the feel of coastal roads and ocean views, an invigorating blend of Wild Freesia, Fresh Lime & Lavender. A definite best seller this fragrance.
Frangipani Mango a wonderful fusion of the sweet ripe juicy Mango with the wonderful tropical floral bouquet of Frangipani.
French Lavender a wonderful modern lavender scent with rich fresh lavender spike blended with clean crisp lemon verbena, always a traditional favourite.
Lemon Myrtle Lemon Myrtle says fresh with a green herbal note combined with light citrus scent and is reminiscent of the fragrance unique to the Australian bush.
Coconut Lime this is a tantalizing fusion of creamy Coconut, fresh Lime and Verbena, which is blended with a luscious Vanilla. A classic you won't be able to resist.
Raspberry Sugar delicious dark raspberries combine with sun sweetened blackberries to give and amazingly strong scent and finished with a soft vanilla. If you love a strong raspberry scent this is for you.
Tropicana This fragrance begins with a subtle base of vanilla then layered with fresh kiwi fruit, mango and bubble-gum finished off with top notes of grapefruit, banana and fresh strawberries. A fruity cocktail to delight the lovers of tropical fruit scents.
Sunwashed Linen the wonderful fragrance of sun washed linen fresh off the line.
Blood Orange a sparkling Orange, fresh Citrus, Fruity Bergamot, Lemon and Mandarin. Middle notes consist of gorgeous florals of Jasmine, timeless Lily of the Valley, sweet smelling Rose, Neroli and herbs of Thyme. Basenotes to complete this fragrance are Rosewood Musk and of course Vanilla.
Rose this is a wonder bouquet of the wonderfully traditional floral fragrance.

Author:
Dee Dunworth
About: Dee started her business in 2013 when luck met with opportunity, and allowed her the time to change careers from Business Finance Administration to become a Chandler (Candle Maker) where she was able to pursue her passion and create beautifully fragranced Custom handmade and Readymade Candles.
Connect via:
Twitter
LinkedIn