Free Prize Draw - Birthday Celebration Sale
Posted by Dee Dunworth on 5 January 2016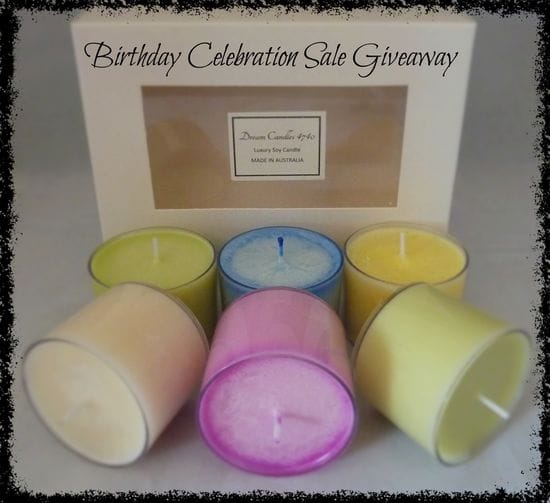 Birthday Celebration Giveaway!
---
January is our second Birthday and we like to celebrate by sharing and rewarding our supporters. So on day two of our wonderful sale we would like to announce one of the montly prizes that all purchases from the Online sale will go in the draw for.
Spa Tea Light Gift Box RRP $24
This lovely Gift Box contains a selection of 6 Spa Tea Light Candles in a variety of six different fragrances and is a wonderful way to try new fragrances.
The Spa Tea Light Candles are perfect to use in all of your small Candle Jars and Lanterns with a fantasic burn time of 12 -15 hours.
All you have to do to get an entry in this Giveaway is purchase from Dream Candles Online Website during January our Birthday month and you will be in the draw.


Author:
Dee Dunworth
About: Dee started her business in 2013 when luck met with opportunity, and allowed her the time to change careers from Business Finance Administration to become a Chandler (Candle Maker) where she was able to pursue her passion and create beautifully fragranced Custom handmade and Readymade Candles.
Connect via:
Twitter
LinkedIn