Posted by Dee Dunworth on 21 August 2016
August Candle Making Workshop
This month's Candle Making Workshop is on next Sunday 28th August and I always look forward to these events each month. There is something very uplifiting and fun to have everyone gather around the table and learn a new craft and also make some new friends. Everyone relaxes, enjoying learning and letting their inner child come out as we play with fragrance and colour. The most common feedback I hear is that they are so excited to take home their Candles that they have made themselves.
Does this sound like some thing you would enjoy? Have you always wanted to learn how to make Candles but didn't have a clue where to start? Are you a lover of craft and enjoy learning new skills?
If you would like to come to this month's workshop or one in the future the details are below:
When: Sunday 28th August, 2016
Time 9.30 - 11.30 am
Where The Boardroom - Clarion Hotel, Mulherin Dve, Mackay
Cost $45.00 Inclusive of equipment and materials
Bookings Essential. Click here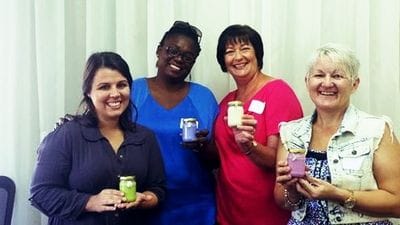 Author:
Dee Dunworth
About: Dee started her business in 2013 when luck met with opportunity, and allowed her the time to change careers from Business Finance Administration to become a Chandler (Candle Maker) where she was able to pursue her passion and create beautifully fragranced Custom handmade and Readymade Candles.
Connect via:
Twitter
LinkedIn